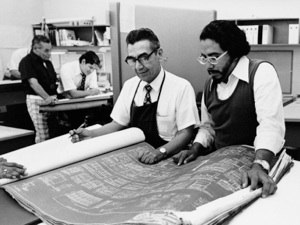 Garza/Bomberger & Associates opened their doors in 1919 as Phelps & Dewees Architects and went on to play a major role in the development of Central and South Texas. From that early beginning, GBA has been involved in the creation of enduring functional and distinctive architecture.
GBA entered educational architecture in 1922 when we became San Antonio Independent School District's "School Board Architects". As a result of this association GBA has been developing public education facilities for 100 years. We have continued this tradition at the school district, university, and community levels throughout Texas.
The firm has had only 16 partners in its history. Four of those 16 are still at the helm today. Combined, the six partners have over 115 years of experience in the profession, the oldest partner having over 40 years, primarily in the design of educational facilities. Each of the partners was promoted from within the firm after years of internship and after demonstration that they represented the philosophies and ideals that have benefited their clients for 103 years. Their longevity with the firm ensures continuity of leadership, expertise, and design excellence. GBA also has the most experienced and stable staff in Texas. Our talented and professional staff provides a unique blend of creativity and quality coupled with industry experience and attention to detail that is evident in every project they commission.
 Company names
1919 - 1930
Phelps Dewees
1931 - 1964
Phelps & Dewees & Simmons
1965 - 1973
Phelps & Simmons
1974 - 1983
Phelps Simmons Garza
1984 - 1993
Phelps/Garza/Bomberger
1994 - today
Garza/Bomberger & Associates